profile


i'm a girl who have stepped into the unknown called work and decided that schooling is better. i also have a propensity to go crazy over fried chicken wings and simply love to squeeze and over-feed my obese hamsters. my blog is a mode for expressing my love for food, movies, travel and shopping!





contact


qiuuing@gmail.com

email me if you don't feel comfortable leaving a tag :)



Lijit Search




tagboard



Saturday, December 30, 2006 @ 19:18
new year

haha grabbed the photo of

bryan's blog

, didn't have any photos coz i didn't bring camera or phone, so will have to wait for

siyu & lil

to upload the photos we took using their cameras... love this photo! the clique was having their big, long-awaited

seafood dinner

(i was having a miserable kway teow coz i dun eat seafood)... remember we kept laughing coz

tau

looks like he has a

long neck

!

just came back from

malaysia

, really preferred my phuket trip... went to

fraser hill

, although i took good photos of the scenary & the weather was cooling, there were alot of

mosquito

(couldn't sleep at all, they kept weng-ing at our ears at night) & there was nothing to do there (was bored to death)... later went to

pangkor

(another beach area), also nothing much to do & things weren't cheap there, so i was just in the hotel watching starmovies all day... last stop at

malacca,

stopped for 3 hrs, shopped a bit for new year clothes... really happy to be back in singapore...

didn't do well for my exams, expected better for some subjects & worse for others... so overall it was just give & take... can't say i'm looking forward to the new school sem...

Labels: family, food, friends, holidays






Saturday, December 23, 2006 @ 12:26

came back


just came back from

phuket

... so lucky there was

nice weather

throughout & no tsunami... the people were really

friendly

(not discriminating like other countries) & had a great time with the clique there... got a bit

burnt

though i'm not really tanned... &

transvestites

were prettier than girls there... things were not cheap, they really hike up the price so it was a bit cheaper than singapore...

going to

malaysia

tmr, so will have to do my

bidding

there :(... dun even know when my results are coming out... lil did quite well, though she's not happy with her c... haha i dun mind having her results!

Labels: holidays






Sunday, December 17, 2006 @ 15:28

trips


countdown to phuket:

2 days

!!!

my parents booked another trip to malaysia... will leave 24th, which is the day after i come back from phuket, until 30th... will be going

fraser hill

(quite cooling like genting highlands) &

pangkor

, which is another beach place... too bad i'll be having menses by then...

i dun know why, i'm at this weird state with my fringe... it just looks funny, like one turf of hair in the middle of my forehead... well now i know, i can either keep it short or long, no in the middle...

Labels: holidays






Saturday, December 16, 2006 @ 14:14

insect bites


i dun know why i'm getting

bites

all over me... and it's all red & itchy & doesn't look mosquito-y... eeee why are they always so many insects during rainy season?




Friday, December 15, 2006 @ 11:26

countdown


woohoo!!! countdown to phuket trip... 4 days!!! rahhhhhhh!!!

Labels: holidays






Thursday, December 14, 2006 @ 15:48

fringe


dun know why, my fringe seems to be growing at a super fast rate... now i can't really pull my fringe down coz it keeps poking into my eye... so sometimes i just sweep it to the side...







Tuesday, December 12, 2006 @ 10:56

3 needles


yesterday went to

marina square

with

mum & sis

for lunch at

moonfish

... sigh really love their

chicken primavera

... delicious! sigh thinking of it now makes me hungry all over again... i love pasta!

watched

3 neeedles

by

lucy liu

& many others, but she was the only prominent actress i remembered... it was about 3 different stories in 3 different continents, all about

aids

... it was very realistic, but too

depressing

in my opinion... really show the true side of human nature... & there were so many sex scenes it should be r21 instead of

m18

... oh well, that's why i prefer to watch comedy... more worth your money to get light-hearted, then to get scared or depressed...

oooo

1 week

left to go

phuket

! i'm so excited! 1st clique trip & without parents, more independence... & i hope i dun spend too much there!




Saturday, December 09, 2006 @ 10:59

books


haha have been staying home alot reading books... sigh so long since i borrowed books... think i'll be bringing some books along to phuket, so i can read before i sleep... oooo i can't wait for the trip!

lil came over to my house on thurs to borrow winter clothes... most of them were too big for her, lucky she'll be piling up anyway... that stupid girl drop museli bar into her ribena & tot it was an insect in her cup, scared the hell out of me, coz when i poured for her, there wasn't anything inside the cup...

met up with my sis after her seminar yesterday, had dinner at the soup spoon... watched happy feet later at cine (yes it's been a long time too)... haha really enjoyed the movie, the amigos were so funny! the soundtrack's nice too, kind of like a musicale plus comedy kind of thing...

and i really like my hairstyle... it's growing out of the edginess (u know the just cut blunt end feeling)... my sis thinks it nice too... hope my fringe will not be poking into my eyes during the phuket trip...

Labels: family, food, friends, holidays, movies






Wednesday, December 06, 2006 @ 18:17

haircut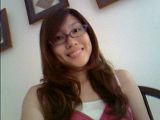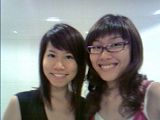 went for haircut today with

siyu & sijing

at

heatwave

... haha have

bangs

! i like my new look :)

joanne's great

! haha hope it'll be as nice tmr when it's not blown dry...

Labels: friends






Monday, December 04, 2006 @ 22:35

woohoo!


YEAH!!!

freedom

!!! i feel like a bird... ok that's a wrong metaphor... i feel like a dolphin swimming through the ocean! supposed to go out with my sis tmr, but she bang seh me, oh well, nvm... i can't wait to go

library

anyway... loan limit doubled! which means

8 books

! woohoo!!! feel like going for a

haircut

& i so need to

pluck my eyebrows

... it's so bushy, u can drop a rice inside & get lost (hahahaha)...




@ 09:14

uno beef house


yesterday, my family went to try

uno beef house

, which was advertised in the life newspaper. It is part of a

coffee shop

in

toa payoh

and the reviews were really good, but to me, it was both good and bad.

we waited

more than an hour

or so for our food to come, because they

cook on the spot

, so as not to let the food go stale. however, by the time the food came, i wasn't really hungry anymore. definitely not a place i would go for a takeaway. partially it's good, because u know everything's fresh, on the other hand, the waiting time's a bit ridiculous. seeing that the queue is so long, i think it's smarter to cook before the demand comes. anyway, when we got our food, we heard the neighbouring table said their food had to wait 2 hours.

one of the most important thing to me is cleanliness and the place was

filty

. i took a picture of the 4 tiles right next to my chair and you can see

toothpick, tissue, cockroach

(which i just killed coz i hate them and it was running all around) and

fly

. the seating area's outside the coffee shop & for a public area, it was digusting, litter everywhere. there were also plenty of flies, which kept landing on the table. no to mention the

mynahs and crows

.




however the food was

delicious

(if you overlook the waiting time & surroundings). the

tenderloin $10, ribeye $9 and fish & chips $5

. the steak was served with their special

fried mashed potato ball

, which was creamy & buttery, i really savoured every bite. the beef was served on a hotplate and was very

tender

(the tenderloin was nicer than the ribeye), albeit a bit undercooked (i ordered medium). my sis ate the fish & chip (doesn't come with the mashed potato ball) and she liked it because the fish was really

smooth

. really good standard and u can not find good steak for $10 and under. we also ordered the

soup

, which tasted like

campbel

l and costs $2, didn't really think it was worth it.

somewhere i would go again, but definitely

in between meals

for shorter waiting time (we arrived about early 5). don't think i would go anytime soon, the cockroach, flies and birds are still fresh in my mind.

Labels: food






Saturday, December 02, 2006 @ 16:31

paiseh...


was so

embarrassed

today can... i skipped lunch coz my paper was during lunch time... and my

stomach kept growling

during my paper! i was so embarrassed... somemore it's biological, can't control and it was growling so loudly... i had my paper in a

classroom

, which mean it was very small, so it was kind of obvious it was me, despite the fact i kept pretending it wasn't me...